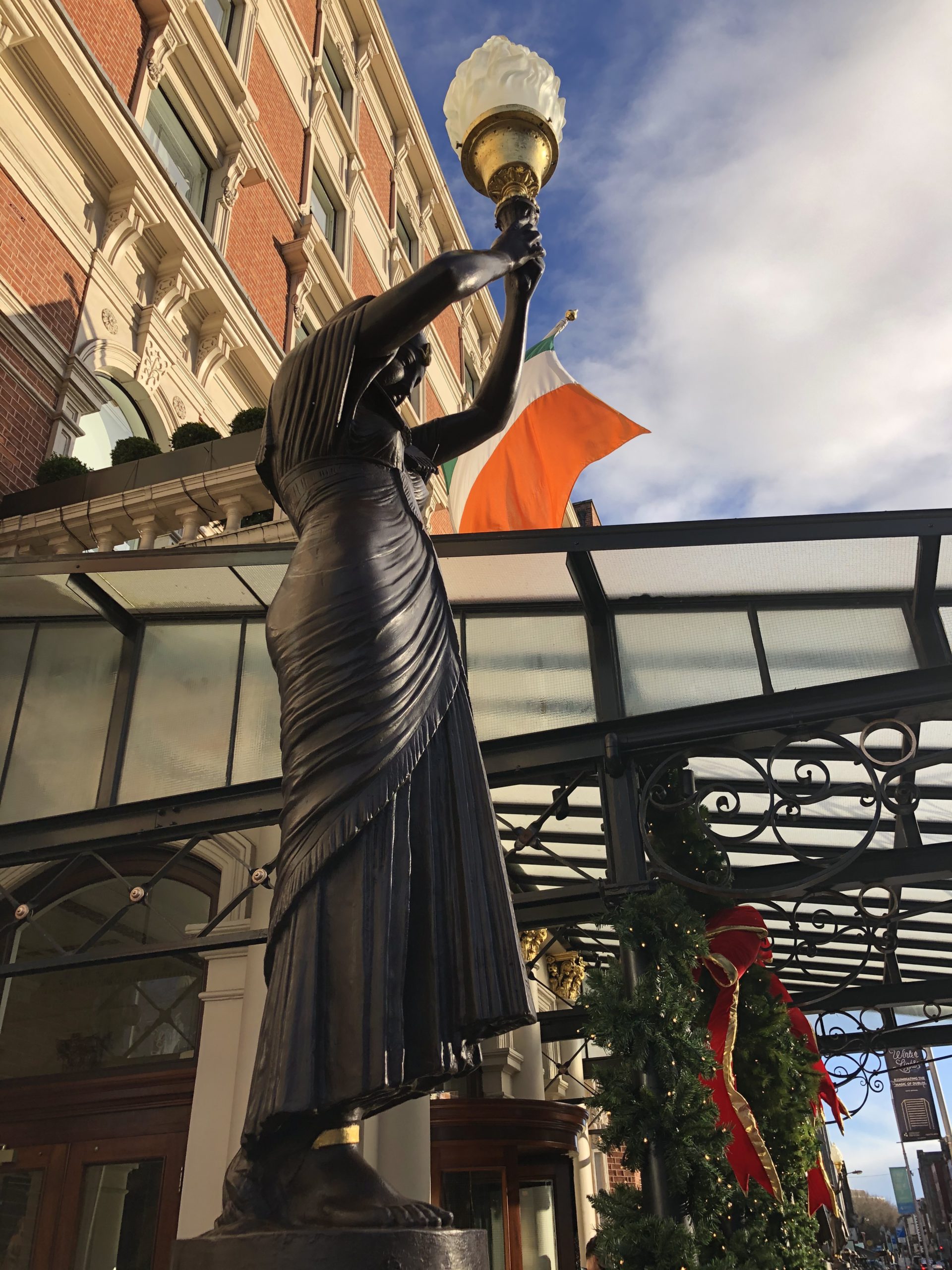 During the summer of 2020, four statues depicting Egyptian women were removed from the front of the Shelbourne hotel in Dublin.   The four plinths sat empty until the 15th of December, when the statues were returned.   The statues had been removed as a consequence of raised awareness of what public art symbolises through the Black Lives Matter movement.  I think it is wonderful that art raises questions and encourages debate over important issues such as what it represents.
The four statues were reinstated just before Christmas 2020
The reason that the statues were removed by the hotel management is that they were mistakenly believed to depict Nubian slaves. This mistake has been blamed on the fact that they had been described as such in a 1951 book about the hotel by the novelist Elizabeth Bowen.  Art historian Prof Paula Murphy of UCD advised the Shelbourne hotel that the catalogue from which the statues were chosen back in the 1860s makes no reference to them as slaves and it is more likely that they depict princesses or aristocratic women.   Another art historian Kyle Leyden from the University of London was quoted in the Irish Times as saying:
"Verdi was writing Aida about a Nubian slave at precisely the time that the Shelbourne was being built.  If Moreau (the sculptor who designed the statues for the catalogue), The Val d'Orsne company (catalogue producer) or John McCurdy (the hotel's architect) had wanted a statue of a Nubian slave , they would have had no qualms about calling it precisely that"
Leyden stressed that the Shelbourne statues are of well-dressed females in an enlightened pose and not one of servitude and that all four wear golden anklets as symbols of their aristocratic rank.
The statues are of well-dressed females in an enlightened pose
The statues have been a key feature of the building since 1867 so it was a great relief to see them reinstated and beautifully restored too.  The statues looked absolutely resplendent on the fine winter's day in December when they returned to their plinths.  I happened to be in the area and on hearing the news that they had returned, I managed to get a few photographs of them freshly reinstated.  There was a great sense of excitement outside the hotel, particularly amongst the staff (see Richard the doorman's dance of delight).
Richard the doorman's dance of delight!
It's a building that we can be proud of in Dublin.
Prof Paula Murphy is currently giving a series of on-line lectures from Dublin's City Hall and hosted by Sculpture Dublin and Dublin City Council.  Murphy's lectures bring the story of Dublin's sculpture alive and I would highly recommend attending.  The lectures are also on the Sculpture Dublin website- so if you miss any you can watch it later.   See link to Sculpture Dublin:
https://www.sculpturedublin.ie/city-hall-online-lecture-series-engaging-with-the-historic-public-sculpture-in-dublin/