In 1607 The coat of arms was granted to the city of Dublin by the English crown.  However, the three castles have been a symbol of the city for far longer and are shown on the city seal which dates back to the 13th century.
The three castles in the seal are burning but the flames do not depict a real fire but symbolise the zeal and readiness of the citizens of Dublin to defend their city.
There is a figure in the coat of arms representing Law as she is carrying a sword and an olive branch.    The figure on the other side represents Justice as she carries a pair of scales and an olive branch.  The flowers at their feet represent hope and joy.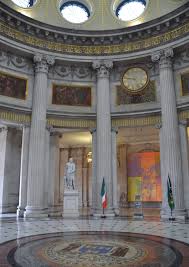 Photo of the Rotunda in Dublin City Hall with the coat of arms of the city in the marble floor
The city motto is written in Latin and a quotation from Plato's Republic.  It translates as: 
      'Happy the city where citizens obey'
After eight centuries The Coat of Arms is still very much in use today today and can be seen all around the city, on municipal buildings, lampposts and benches.  The three castles were integrated into the logo for Dublin City Council in 2002 when Dublin Corporation became the Dublin City Council.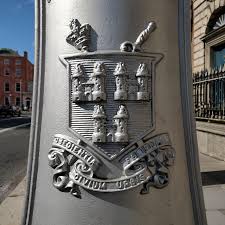 Photo of Dublin city coat of arms on a Dublin street lamppost
There is a wonderful mosaic of the coat of arms integrated into the marble floor in the middle of the rotunda at City Hall.  The coat of arms marble mosaic was laid in 1898 as part of a new marble floor and was directed by the work of city architect McCarthy.
The marble is two inches thick and the five colours come from different places:  white from the Isle of Wight, light grey from Sicily, black from Co Kilkenny, green from Co. Galway and the red is from Co. Cork.  It is an imposing piece of Civic art and another good reason to visit Dublin's City Hall on Dame Street.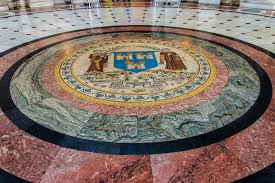 Photo shows the marble mosaic at City Hall of the city coat of arms